A Distant Home
A mix of tragedy and humor as a woman struggles to find her place in the male dominated culture of western Kansas in 1920.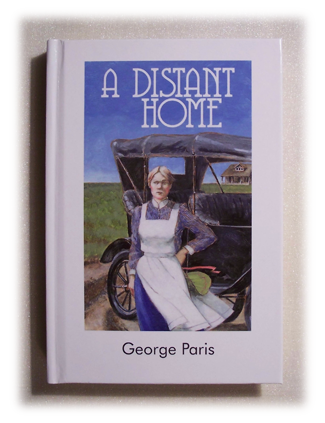 Cover illustration by artist Barbara Waterman Peters, Topeka

---
First publication May 2010, iUniverse, Inc.
Can Emily survive in the crowded, unfinished home of her extended family to which her new husband has brought her? His family resents her because she is well educated and a suffragist. She uses her ingenuity to deal with their prejudice. She learns to drive their Model T Ford on a Sunday morning, but her husband's instructions fail to teach her how to stop the car. She finds a clever way to force her hateful sister-in-law into marriage.

Because they are living in poverty, Emily wants to return to teaching as a way to supplement their income, but the whole family is opposed. Will the school board want to hire her, now that she is married and has a child? Her father comes to visit and is appalled at her situation and the barren surroundings in western Kansas. He makes matters worse by questions too personal. He sees her as his little girl who has wandered into the wrong place. Is he right? Can Emily prove him wrong?

---
George Paris knows the area he writes about in A Distant Home. He lived there, but the story is not about him. It is about a woman determined to live up to her rightful place as a full human being rather than the prescribed role of a farm housewife. George is also a poet and is planning to publish the best of his poems later this year. He lives in Topeka where he enjoys his writing group and the Kansas Authors Club.
---
A signed copy is available from the author by contacting him by email at geoparis@sbcglobal.net. It is also available through Barnes & Noble or on Amazon.com.